Interview with Prof. Karin Diserens – World Congress for Neurorehabilitation (WCNR) Vienna 2022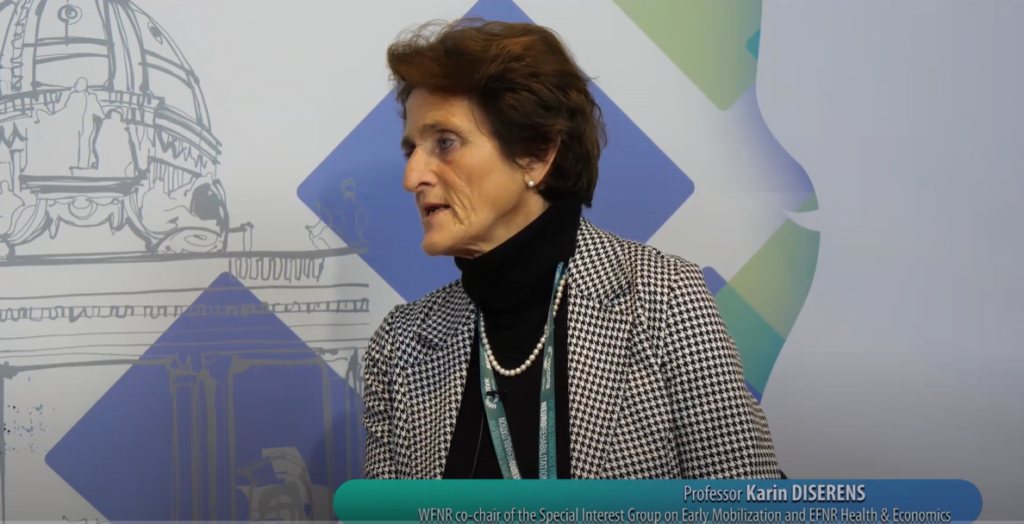 Interviewee: Prof. Karin Diserens, WFNR chair of the Special Interest Group on Early Mobilization and member of the executive committee of the EFNR Health & Economics
Interviewer: Stefana-Andrada Dobran
During our conversation, Prof. Karin Diserens reflected on her involvement in previous WCNR Congresses and her active engagement within the WFNR. She expressed her gratitude for the federation's role in uniting specialists from diverse backgrounds and fostering a collaborative environment.
Turning to the 2022 WCNR Congress, she elaborated on its central theme: innovative strategies in neurorehabilitation. She particularly emphasized the significance of interdisciplinary collaboration when dealing with intricate disorders.
Venturing into her specific area of expertise, she addressed the challenges faced in providing accessible care for patients with disorders of consciousness (DoC). This contentious domain highlighted the issues in assessing DoC due to varying methodologies and definitions.
The focus then shifted to diagnosing these disorders during their acute phase, emphasizing the importance of a multimodal approach. Prof. Karin Diserens delved into the prerequisites necessary for a comprehensive integrative strategy for DoC. The conversation also touched upon the pros and cons of employing brain-computer interfaces (BCIs) and Virtual Reality compared to traditional rehabilitation methods, alongside considerations regarding patient autonomy.
Lastly, our dialogue explored the evaluation of short and long-term outcomes for individuals with disorders of consciousness. Professor Karin Diserens underscored the critical nature of selecting appropriate evaluation scales for a more accurate assessment.
We kindly invite you to browse our Interview category: https://efnr.org/category/interviews/. You will surely find a cluster of informative discussions with different specialists in the field of neurorehabilitation.
---
---