Interview with Prof. Izumi Kondo – World Congress for Neurorehabilitation (WCNR) Vienna 2022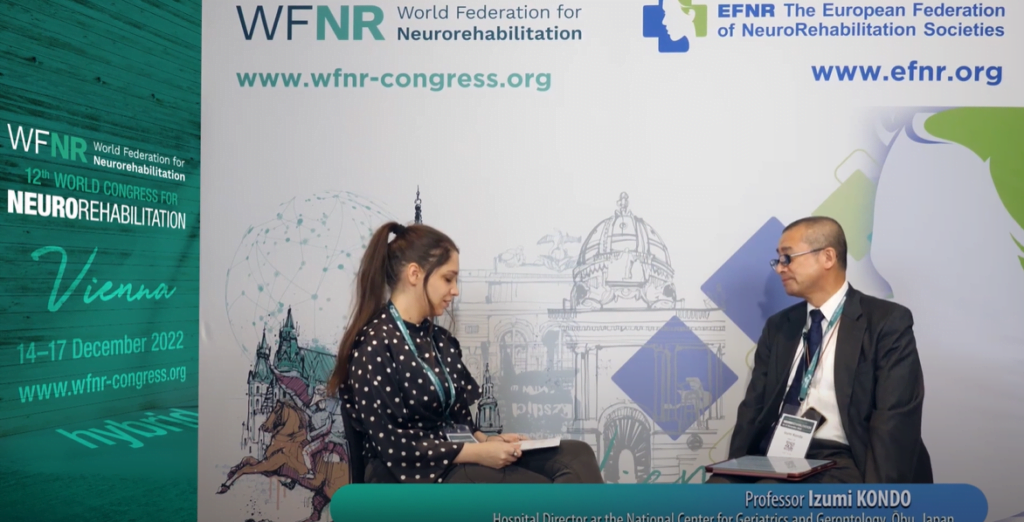 Interviewee: Izumi Kondo, Hospital Director at the National Center for Geriatrics and Gerontology, Obu, Japan
Interviewer: Stefana-Andrada Dobran
This interview with Professor Izumi Kondo was taken on the occasion of the 12th World Congress for Neurorehabilitation (WCNR), held in Vienna in December 2022.
During the interview, Professor Kondo shared his perspectives on several topics. He commenced by shedding light on stroke statistics, emphasizing the alarming reality that approximately five million individuals succumb to strokes globally each year. This staggering figure underscores the urgent requirement for effective interventions and measures.
Delving into the realm of neurorehabilitation, he explored evolving strategies and advancements in the field. This narrative seamlessly aligned with the overarching congress theme focused on refining treatments, incorporating neuromodulation, and customizing the integration of state-of-the-art technologies.
Professor Izumi Kondo firmly asserted that successful rehabilitation necessitates a comprehensive, multidisciplinary approach, where each team member assumes a role. This collaborative framework ensures a holistic approach.
Amid the innovative strategies discussed, particular emphasis was given to robotic training. Conversations approached patients' perceptions of this training method, revealing a noteworthy acceptance rate among a substantial portion of patients toward this technology.
Concluding the interview, attention shifted to the duration of training programs for medical personnel to adeptly navigate robotic technology. This aspect underscores the importance of equipping healthcare practitioners with the requisite skills and knowledge to proficiently employ these tools in their practice, harmonizing with the broader objective of advancing treatment.
We kindly invite you to browse our Interview category: https://efnr.org/category/interviews/. For sure you will find a cluster of informative discussions with different specialists in the field of neurorehabilitation.
---
---